If you're running a small online business, you might need a courier service to deliver your parcels.
Now, for usual courier services, you need to physically go to the courier's office and drop the package you want to courier over.
What if you can get rid of this tiresome process?
Yes, there's an easier way – using an online courier and delivery service. You call the service over the phone, a delivery man comes over, picks your parcel and deliveries it to the destined receiver.
There are a handful number of such services available. To help you pick the best service in this sector, we are going to talk about 6 best online courier and delivery services in Bangladesh.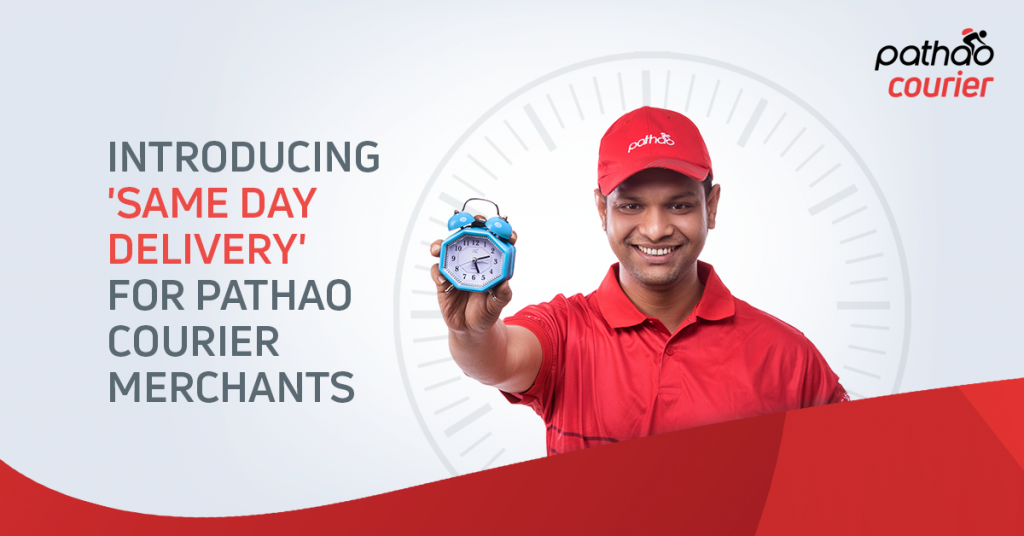 Starting in 2015, Pathao is one of the fastest-growing tech startups, not only in Bangladesh but Asia also. It offers an app-based solution for courier and parcel. By offering on-demand delivery services, Pathao Courier is one of the strongest contenders for online courier service.
Pathao Courier service offers an extensive service to all sort of courier issues. Whether you need to courier products in the same city or cross district delivery service, Pathao Courier got you covered. And specially if you are a small business owner, there is more good news for you. Pathao Courier ensures that, your customer will get the product will be sending, at the right place, right on time. The proficiency is guaranteed by Pathao's efficient distribution management.
Pathao Courier is available in more than 50+ districts. You can courier products in the same city or different cities- whichever you need. Couriering in the same city can take up to 24 hours, where cross city courier will take up to 72 hours.
Registering as a merchant (business owner) is simple. Give necessary information (name, email, business name, address, payment details etc), upload 2 images (front & back side) of the identification document you'll be providing and click 'Register'. That's it, no more hassling!
Pathao also offers parcel delivery service in case of emergency deliveries. It's just like calling a taxi, instead, you call the Pathao rider and the rider will take your parcel and deliver it as quickly as possible. It is currently available in Dhaka & Chattogram.
Payment option is flexible in Pathao Courier and Parcel service. You can use both bKash and cash on delivery to pay. And if you sign up as a merchant, you can collect your money from your customers through Pathao, which Pathao will send you via bank accounts or personal bKash number, or you can pick that up directly from their head quarters on Saturday of every week.
Sheba Delivery is an initiative taken by Sheba.xyz. It is targeted for merchants. Just like many of their services, Sheba Delivery is also an application-based service. This service will let merchant/business owners make money by making parcel deliveries to the areas of their liking, for a fee.
For merchants, Sheba Delivery offers special services. You can have your own dashboard, where you can manage all your orders and keep tracks of your orders & deliveries. You can also track your delivery person while delivering products. In addition to that, you can deliver for other e-commerce businesses, which can help you broaden your business.
Registering as a merchant is simple. Download Sheba Delivery app (available in Google Playstore) or go to their site, select 'Company Registration'. Then fill in the necessary info (name, date of birth, company name, NID number etc) and upload necessary photos (profile picture and NID card image). Once done and submitted, call 16516 for confirmation. Once confirmed, your company is good to go for deliveries.
REDX Delivery is a logistics company with the aims of providing tech-first delivery support to aid Bangladesh's expanding e-commerce sector. With a talented, hard-working workforce and exclusive features, REDX Delivery has added new speed to delivery service in Bangladesh. And it is specifically designed for business owners, so, if you are one, you can take their service without a second thought. Big names in Bangladesh, such as Daraz, AjkerDeal and Rokomari.com is their trusted partners, so, you can rely on them without hesitation.
REDX Delivery claims to have the fastest delivery system in Bangladesh. With delivering parcels within 24 hours inside Dhaka, and within 72 hours outside Dhaka, this claim can be very much true. They offers seamless delivery, picking up the product from your door step to delivering that to the destined area. Not only that, you'll get updates during both booking and delivery via sms, so you won't have no tensions regarding your product.
Apart from fast delivery and notification update, REDX Delivery also offers 0% COD (cash on delivery) charge inside Dhaka and only 1% COD charge outside Dhaka. You can get your payment the very next day the delivery is complete, which you can accept via bKash or bank transfer.
Registering as merchant in REDX Delivery is easy. First, put your phone number and confirm. In return, you'll get an one time password (OTP), put that in and proceed. Agree with terms and condition, then you can proceed to the info page, which you need to fill up (for example: shop name, address, email, prefered delivery area etc.). Once done, you can add payment option then and there, or you can skip that for later. That's it, your REDX Delivery merchant account is ready.
REDX Delivery offers nationwide delivery, which includes 64 districts with 61 hubs. They offers live tracking for your delivery, by using which, you can check the real-time location and status of your parcel from anywhere. And if needed, REDX Delivery provides reverse delivery, which allows customers to return products if they seem necessary.
Starting it's journey back in 2014, eCourier is one of the best online courier service for merchants, with 17,000 merchant partners. They are the first to create a unique network with home delivery and store pickup & return services. This not only just enhances customer experience, but also rationalizes costs.
eCourier can be called your one-stop-for-all service for your business. First, you get your usual courier service. In more than 50 districts throughout Bangladesh, eCourier will deliver your parcel to your customer in 72 hours. And inside Dhaka, delivery time reduces to 24 hours. If you are in a hurry, you can ask for "Next Day Guaranteed Delivery", which ensures your product's delivery the day after pick up (this service is currently available in Dhaka, Chattogram, Gazipur, and Savar). And if you are in Dhaka metro area, you are in for luck, because eCourier offers to deliver the parcel on the same day of getting the order, if you order in 12pm.
Secondly, you get warehouses for storing your items, which can reduce your operating expenses and save your precious time to focus on your core business. Warehouses are safe, cctv monitored, access controlled and covered by insurance. This can be convenient for you, because you can just book the products from home, and eCourier will take care of the rest from packaging to delivery.
Thirdly, you get packaging options. Yes, you don't have to pack your products, eCourier will do it for you. Not only that, you can customize the packaging according your choice. All of these for a fee, of course.
And last, but not least, bKash on delivery. Customers can bKash the product payment once the product is delivered. This ensures 100% contact free delivery during this dire situation, keeping the hygiene factor fully intact.
They also offer booster SMS (notifies customers about merchant's offers, sales etc.), Facebook sales automation and fraud detection service for your business.
It's easy to registration for eCourier as a merchant. You fill up necessary info (company name, address, password etc) and choose payment option. For payment, you can go for bKash. Or you can use banks, like DBBL or BRAC Bank etc. And that's it, you are now a merchant associated with eCourier.
Established in 2019, Delivery Tiger is known as the first logistic marketplace in Bangladesh. They are mainly a cargo and freight company, which delivers throughout the country, in almost all the districts and sub-districts (Upazillas) in Bangladesh. It is one of the fastest delivery service provider in Bangladesh.
Why would you choose Delivery Tiger? Because they offer you a big array of services for merchant courier service. First, they courier products to 64 districts and 490+ sub-districts, so you don't have to worry about connectivity with your customer. And they are fast. You get same day delivery in Dhaka, 'Next Day Delivery' (delivery in 24 hours of placing order) in Dhaka, Narayangonj, Gazipur, and Chittagong; and express-day delivery in a maximum of 4 working days across the country. You can get payment (cash collected from customers) every Tuesday and Delivery Tiger charges only 1.5% as COD charge. And more to it, there is no return charge, so if your customer returns the product, you don't have to pay extra. And in Dhaka & Chattogram, Delivery Tiger will collect the product from your address. And you will not have any reliability issue with Delivery Tiger, as more than 10,000 merchants are using their service, including brands like- AjkerDeal.com, Rokomari, LAFZ, Gadget & Gear etc.
You also get local courier service, online parcel service from Delivery Tiger. You can use their app, which lets you take all the advantage of their site on your phone, on the go. It is available in Google Play Store.
Signing up is super easy in Delivery Tiger. Just put in your phone number, set up a password and click registration. In return, you'll get an OTP. Submit it and you are good to go.
Whith 5,000+ digital centers working out of 64+ districts across Bangladesh, Sonar Courier Service Ltd. is the last addition to our list. This is a nationwide courier with a local feel, providing flexible & fast deliveries, tailored to your specific business needs.
Sonar Courier offers you all the courier services you need as a merchant. Same day delivery (currently available in Dhaka, Chittagong, Barishal & Bogra), next day delivery, cash on delivery, real time tracking & tracing of your product- you get all the things you expect from a courier service. And more to that, you get many services, such as:
International courier service, which means you can deliver product to your customers in foreign land.
Priority Secure Courier: if you need to courier documents fast and secured, Sonar Courier is the service to go to. They provides a security checked team, who secure the delivery to the destined addresses only. Real time tracking is there, so, you can see where your delivery is throughout its transit.
Extensible Platform for Site Integration- this allows you to integrate Sonar Courier with in your business site, which will allow you to manage your delivery more smoothly.
Registering for an account on Sonar Courier is easy. Just enter your details on our sign up form, have a quick call with one of their delivery experts and voila, they'll do the rest.
Conclusion
Delivering products are needed more than ever, due to the crisis situation. So, choosing a delivery service which will maintain health safety and hygiene is very important for both you and your customers. All of the online courier services are guaranteed to maintain this parameter while offering good service, so you can easily choose from one of them. Pick your service provider, keep on delivering products and stay safe. Good luck!