Internet is now an integral part of our life. We can access anything and everything through internet, just by a click or touch, just in a whim.
And banking is no exception to this. We can now access our bank accounts on our palms, using the internet, whenever or where ever we want.
But checking balance is not enough for an internet banking app, or just getting account statement doesn't please use anymore. We need a lot more than that for our day to day life. We need faster services. We need quick actions. But we also need security and simplicity.
So, which ones to choose from many of the services available in the country?
For this reason, today we are going to talk about the 6 best internet banking apps in Bangladesh, which will make your internet banking experience a lot faster & smoother, thus making life a lot easier for you.
Let's check the best internet banking apps in Bangladesh.
Internet Banking Apps In Bangladesh
Launched in 2013 by City Bank, Citytouch is the first internet banking app brought in Bangladesh. Paired up with top notch security, account customization, and excellent customer service, Citytouch is undoubtedly one of the best (if not the best) internet/online banking app available in Bangladesh.
Citytouch offers a big load of services. You can shop, buy tickets, pay mobile bills/credit cards & schools, transfer fund from your account, keep track of your accounts: Current, Savings, Fixed deposit or Loan and so on. The list is too big to write individually, so we'll talk about some very important and handy features offered by Citytouch.
For example, you can transfer money from your bank account to bKash, which is another widely used digital wallet app. And you can do that without any charge. So, if you find yourself somewhere you can't use Citytouch, you have nothing to worry, just transfer your cash to bKash, as they are used by many people. Not just to bKash, you can also transfer funds from your account to other City Bank accounts and local bank accounts. Up to 5 lacs (5,00,000) BDT is transferable under this feature, through as many transactions a client wants to make, regardless of the time.
Then, you can send or receive money through email. The recipient doesn't even have to have a bank account in City Bank. And more to that, the recipient can put the money in his/her choice of bank account. You can also send money to anyone with 'Cash With Code', which is withdraw-able from all City ATMs across the country. And the process is pretty easy and convenient.
And last but not least, you can buy air tickets from top airlines in Bangladesh, like Regent Airways, Novo Air and US Bangla, directly through Citytouch. So, flying is now easier and accessible for you.
And for other services, you get:
Create fixed deposit plans or monthly DPS plans via the app.
Request customer service through the app.
Pay tuition fees, insurance premium, club payments, internet bill payments etc. through the app.
Pay for shopping in hundreds of stores throughout the country.
Scheduling payments for specific dates.
Opening an account in Citytouch is pretty simple. All you need is an account in City Bank or credit card with City Bank, a smartphone with Android/iOS and internet connection. Fill in the necessary info and you can open under minutes. Your data and money is secured by two-factor authentication (2fa), so no worries about security. The Citytouch app is available for download in both Google Play Store and Apple App Store. And for any queries, just dial-up 16234.
Dutch Bangla Bank was the first bank in Bangladesh to be fully automated. And from them, we got NexusPay, which is the first fully cardless banking solution in Bangladesh. It works not only with Dutch-Bangla Bank Agent Banking and Rocket Mobile Banking (both are from DBBL), but with all bank cards including Nexus, Visa and MasterCard.
NexusPay offers a vast array of features to it's users. You can not only send and receive money through the app, you can do more than that. You can shop from more than 10,000 shops, who accepts NexusPay transactions. You can download not just one, but multiple cards and use them, all in one account. You can send money to ANY and ALL mobile phone numbers, without any charge. You also get features like:
Making transaction using QR, NFC, Phone, Rocket and card number across the DBBL network.
Generating 10-minutes temporary card numbers for online payments.
Paying utility bills.
Cardless ATM withdrawal.
Deactivating your DBBL card, in case of a security breach.
Clients also get a special feature called "loyalty points card", which stores all bonus and cashback. Clients can shop, TopUp, and pay merchants using loyalty points card.
With changed rules, you now need a phone number which is attached/used for any of the DBBL services (current account, savings, Rocket, student account etc.) for creating an account. With the phone number and necessary information, opening a new account is pretty easy.
NexusPay app is available for both Android and iOS users. The app will give clients online discounts, and heads ups for all NexusPay discounts and offers. It is highly recommended to download the app only from Google Play Store & Apple store, rather than any sites, because of security reasons.
EBL SKYBANKING is a mobile phone app-based banking service provided by Eastern Bank Limited, which accessible through smartphone or tab from anywhere, at any time. It is considered as one of the best internet banking services in the country right now. Just tap on any of the menus on the list of the app, and you can perform all the basic banking services per requirement.
EBL SKYBANKING offers clients a lot. Using the EBL SKYBANKING app, clients can:
Transfer money from credit card to EBL, other bank (BEFTN) and bKash account.
Transfer money from EBL Prepaid card to EBL or bKash account.
Pay utility bills of BTCL, DPDC and DESCO; AKASH DTH bill payment feature.
And for security measures, clients get a list of features, such as:
Instant Self-registration.
Fingerprint login for added security.
Instant card block, in case of a security breach.
Self-password reset, using card or account.
2 Factor Authentication, so no forced transaction can not be made.
And there are 2 special feature in this app. For the first one, clients can use both BDT and USD, so transactions can be broader and extensive. And for the second one, clients can reserve appointments via the app, if any sort of help is needed regarding EBL SKYBANKING.
You can open you EBL SKYBANKING account by downloading the app and registering in it. The app is available in Google Play Store and Apple App Store.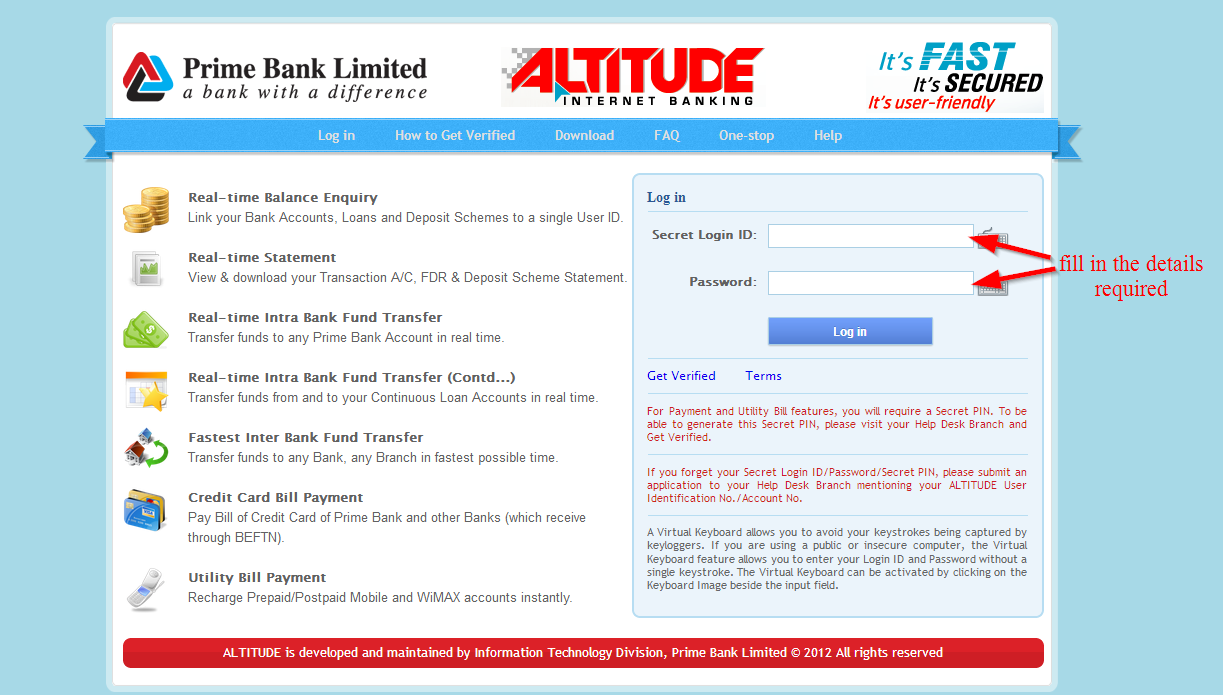 One of the pioneer banks in Bangladesh, Prime Bank, offers their internet banking app ALTITUDE. Using this app, you can avail essential banking services from the comfort of your home.
ALTITUDE offers a long list of services. For your convenience, we are cherry picking the services we think you need most:
Transfer funds between own accounts of Prime Bank or third party beneficiary accounts of Prime Bank, in real-time.
Fastest inter-bank fund transfer through BEFTN (available in any bank, any branch), and real-time inter-bank fund transfer through NPSB.
DPDC, DESCO and BTCL bill payment service.
Tuition fees payment of Brac University & insurance premium payment of MetLife.
VAT, Excise Duty, Customs Payment through ALTITUDE under RTGS (interface deployed in ALTITUDE Live System).
You can self register in the ALTITUDE app. Prime Bank provides a pdf manual on how to do that, guiding you through the whole registration process with written instructions and pictures. The Prime Bank ALTITUDE app is available for both android & ios users in their respective app store.
As part of the endeavor of Mutual Trust Bank's continuously working to offer new and improved services, they have introduce this MTB Smart Banking app, which allows clients to constantly access to their accounts. It is a value-added service, and clients can make selected financial transactions through this app, from anywhere in the world, at anytime.
You get quite a bunch of services from MTB Smart Banking app. You can:
Transfer money to other MTB accounts.
Get advanced credit card services & bill payments.
Pay your utility bills.
Get a mobile top-up facility for phones (all operators).
Get cheque book request service.
Request for account statements.
Locate all MTB Branches and ATMs.
Registering is quite easy. You can make account with your MTB account number/credit card number. Just fill in the necessary info, set up security questions and password, and register. You can either register as an individual user, or you can go as a corporate/sme customer. Though you can not use credit card info when registering as a corporate/sme customer.
Security features like blocking cards or fingerprint login- are not available in MTB Smart Banking. However, this service is secured by SSL encryption, and all data communication is further encrypted by MTB's own encryption technology. No unregistered devices can be used to login to MTB Smart Banking App, so you don't have to worry about the security of your money & data. Interestingly, the app is also available in Huawei's own application store, Huawei App Gallery besides the Google Play Store and Apple App Store; where as all the other internet banking app is only available in the last 2 application store.
Standard Chartered Bank is one of the largest international banks & the largest foreign bank in Bangladesh. It was them who introduced the first state-of-the-art online banking system in Bangladesh. SC Mobile Bangladesh app is another addition to this already amazing internet banking service. It is quite a popular app for it's easy to use smart interface.
SC Mobile Bangladesh offers the necessary services needed for their clients. They have not burdened their clients with a mountain of features, rather, they kept their app clean and simple. So, clients get the basic features of an internet banking app, which are simple but important. An SC Mobile Bangladesh user can:
Have quick access to his/her Standard Chartered Bank account.
Transfer funds to other Standard Chartered Bank accounts/other bank accounts.
Instantly transfer money to any bKash account.
Add beneficiaries and make payment for them.
Make payments for utility bills.
Supervise and track online transaction history.
You can sign up by using a Standard Chartered Atm/debit card or credit card. Or you can register using a temporary id and sms pin. However, you have to use a phone number, which is registered with Standard Chartered Bank. And don't worry about your data safety, now with bio-metric login service, your data is more safe than ever.
SC Mobile Bangladesh is available in Google Play Store & Apple App Store for both android and ios users.
Conclusion
The world of banking is always changing. The core remains the same, but new methods, new features are being added on regular basis. In Bangladesh, 40+ banks currently have their own apps for banking, many of which are not feature enriched.
For this reason, people are more inclined to the banks which have better internet-based banking facilities. And our list fulfils this goal for our readers. Noticed how we did not include the Brac Bank Mobile app? Because it's not yet launched finally. We know what is best for you, so we picked them and sorted them in a list, so you don't have to wander around in the internet to find them. Pick the one service you like, control your finances, save money and time. Be safe and have a nice banking experience.