Whether you drive your car yourself or keep a driver, or use the car for business purposes (rental service, delivery service, etc), there will be always security issues for your precious car.
Contract drivers can misuse their power and take cars for a ride without permission, and in worst-case scenarios, cars can be stolen.
Now, to prevent any security breach and to look over the car's maintenance records/ performance history of your vehicle, the best solution can be a tracking device.
You'll find a lot of companies in the market, who provide tracking solutions. While some of them are really good, many of them are not really worth the money you'll pay.
To help you out of all the confusions of choosing the best tracking service for your vehicle, we are presenting you the best 7 GPS tracking services in Bangladesh.
Launching back in 2016, Easytrax holds one of the strongest positions on our list of GPS tracking service providers. As a leading figure in this sector, Easytrax always focuses on customer satisfaction and providing useful features of vehicle tracking.
With providing services to 100+ B2B companies, having the service of 15+ nationwide distributors, 20+ installation centres and a record of 130+ stolen cars found, Easytrax is a reliable name for GPS tracking service. And big names like Rangs Industries, Renata Limited, Jamuna Group is partnering up with Easytrax, so no need to worry about the quality of service.
Talking about features, Easytrax offers a huge list of them to their clients. For starters, clients get the basic key features, such as: fuel monitoring, daily mileages, route playback, geofences alerts, maintenance scheduling etc. Clients also can:
Monitor multiple vehicles in one single platform.
Use 6 different map views, including street view, hybrid view, satellites view etc.
Start/stop vehicle engine remotely.
Get updates whenever the vehicle moves via e-mail, SMS or notification.
Get updates if the vehicle is kept idle for too long.
Get speed alert if the vehicle speeds up too much.
Calculate the fastest route to the destination.
Review for precise route history.
Get update if the GPS tracker is being tampered with.
Mark locations for future references.
And if clients want more advanced and merchant friendly features, Easytrax got those sectors covered too.
For merchants, Easytrax offers the 'FLEET VEHICLE TRACKING' feature, with which a business can view vehicle progress in real time. With 'ROUTE MANAGEMENT' feature, merchants can manage routes for deliveries and will be alerted if the driver/drivers don't follow the route. 'REAL TIME FUEL MANAGEMENT' will notify about fuel usage and alert you in case of fuel theft & increasing fuel costs. Easytrax will help merchants monitor and control excessive speeding through 'SPEED GRAPH ANALYSIS', thus saving you from ticketing and insurance costs, and most importantly, it will save lives. A special item, 'Easytrax Intelligent GPS Electronic Lock' will allow merchants to lock up valuable mobile and fixed assets, alert if the lock is being tampered with, thus preventing merchandise theft. Merchants will also be able to keep tab on drivers, assign them & get specific driver report to their inboxes everyday. And last but not least, with Google Live Traffic updates with Paid Google Premium API services, merchants can have live traffic update on their fleet.
Easytrax also offers bicycle & motorcycle tracking, school bus tracking, taxi dispatch system, voice monitoring, temperature monitoring system, senior citizen & child tracking etc.
Online signing up for Easytrax is simple. Clients have to contact one of the employees/sales person, fill out the fields on the online registration page with necessary information (name, phone number, vehicle brand & model etc.) and that's it. Or you can go to one of the 15+ Easytrax distributors nationwide and buy service from them.
According to Easytrax site, pricing starts at 2,999 BDT and goes up to 12,5000 BDT, excluding service charges. And if you check the offer page, you'll find many affordable options, which can reduce the cost by great margins. For payments, you have many options; including 4 card payment option (VISA, master card, American Expres & Nexuspay), 7 mobile banking options (bKash, ROCKET, ipay etc.) & 5 net banking option (citytouch, MTB etc.). For corporate billing, you can make transactions to accounts in Al-Arafah Islami Bank, City Bank & Mercantile Bank. All of the online transactions are secured by SSLCOMMERZ, so you don't have to tension about your data and money's safety.
Founded in 2014, Radiant GPS has been in this business for 14 long years. They have set a goal of functioning as the principal GPS tracker technology resource for those companies, who wish to ensure to get the best return of their investment. With an extensive client base and age old track record of solving challenging problems, Radiant GPS can be the perfect choice for the GPS tracking service for your car.
Radiant GPS offers an array of features and products to their customers. Clients can track their cars on real time, view detailed information on speed, fuel consumption, travel history. They can get instant notification about their cars entering or exiting geo-zones, if the car is speeding or doing stepovers. And in case of a stolen vehicle, clients will get SOS alarms and can shut down the engines. Notifications will be delivered to Android/iOS/Windows devices, via app, email or sms. Clients can get their cars' travel history, including: driving hours, stopovers, distance traveled, fuel consumption and many more. They can get detailed and group reports, and the reports can be downloaded in many forms (XLS, PDF, CSV, TXT etc.). Marking a location for future usage, accessories for advanced control (drivers identification, ACC ON/OFF, door ON/OFF etc.)- these are available too. To summarize, all things needed for GPS tracking are being provided by Radiant GPS. All you need to do is contact them and install the service.
Registration is made easy for clients. Once you buy a GPS tracker, you need to provide the email in checkout information after getting the confirmation mail. Once the admin panel from Radiant GPS gets your information, they will register with the email you provided and will hand you over the user name and password. All you need to do is sign in with the provided credentials. They have given an extensive user manual for setting up, that's another plus point for new users.
You can use Radiant GPS free for one month, as a trial. There are also other packages, starting from BDT 500. You can also check for various deals & discounts they offer. Interesting thing is, you pay both in USD and BDT.
For payments, Radiant GPS offers you to pay via PayPal. You can also pay via credit/debit cards from VISA & master card, or use mobile banking services, like: bKash, ROCKET, MTB etc. Or you can go for internet banking/ international wallet, like Payza.
Being a sister Concern of G-Tech Group, Dupno specializes on GPS tracking device for car, motorbike & people. With a commitment of assisting all of their customers in every way possible, and a goal of 100% customer satisfaction, Dupno is helping to ensure that, customer can make a well informed & educated purchase decision. Dupno will evaluate the customers' requirements, recommend the right product that'll suit their needs, and gives the most options. So, this could be the GPS tracking solution you're looking for.
Dupno offers a lot to their customers. Customers gets all the standard products & features: live tracking of their vehicle, actual engine running time, speeding alert, geo-fence/no go area alert, route history, real time notification, voice monitoring, remote engine on/off etc. But they offers something more special, which is 'Smart Video Tracking'. With this product, a client can not only track his/her car, but he/she can watch the video of the car, live. Not just the front view of a car, the back view can be seen too. And more to that, it got 24 hours of video capturing capacity and live voice navigation system. With the addition of 2 way communication, your car would be safer than ever.
Dupno offers a long list of pricing range. For standard car tracking, prices start from 5500 BDT (with 500 BDT monthly service charge) and goes upto 14,000 BDT. For 'Smart Video Tracking', you get 3 packages, pricing 18,000 BDT, 24,000 BDT & 25,000 BDT (with data cost + 300 BDT monthly service charge).
As for payments, Dupno accepts credit/debit card payments from VISA, master card, American Express and DBBL Nexus. You can also use mobile banking system (bKash, ROCKET etc.), net banking system (citytouch, MTB etc.), or transfer the money to their bank accounts in City Bank & United Commercial Bank (UCBL).
Car Tracker BD (m.Store GPS Tracker)
With m. tracker service, Car Tracker BD started it's journey back in Novembet 2018 as a sister concern of 'm. Store'. With a mission of providing security to vehicles all over 65 districts of the country, Car Tracker Bd is equipped not only with good GPS tracking service, but also with a dedicated 24 hours customer service team and a team of dedicated after sales service technician, which makes their service unique from others vehicle tracking services out there in the market. So, if you are concerned about any helps after buying a tracking service, Car Tracker Bd can be the one for you.
Car Tracker BD offers a lot of feature to it's clienteles. Customer can get tons features for their personal cars, including: 24 hours live tracking, speed monitoring system, over speed alarm, watch car from google map street view, fuel monitoring system, live voice and video monitoring system, engine start alert via call, and one of the most important features, accident alert. A customer can turn engine off via sms, app or laptop, st unlimited geo fencing, get car positoning & route history (up to 1 year), make reports in many ways. The water proof design and low battery alert will help customers to keep their GPS tracking devices on tiptop condition all the time. Car Tracker BD also offers a more personalized LBS (Location Based Service) to track individual personal, if the need arises for any customer. And for corporate user, Car Tracker BD also offers 'Fleet Management Service', where big fleet of vehicles can be tracked all in once.
Registering for Car Tracker is real easy. All you need to do is provide an email address & password, and that's it. You have to enter your details when you proceed to buy any GPS tracking service package/ packages.
Speaking of packages, Car Tracker BD currently offers 4 types of packages (standard package, voice package, hybrid package & fuel monitoring package) in their site. They start from 3,500 BDT and go up to as much as 12,500 BDT. But check for discounts, as they often offers them.
For payment, customers get plenty of options. They can pay via debit/credit card from VISA, master card, Brack Bank & Nexus Pay. Or they can use mobile banking system (bKash, ROCKET etc.), internet banking system (city touch, MTB etc.) for payment. All of the online transactions are protected by SSLCOMMERZ, so customers don't have to worry about data safety. And if they are not still convinced, they can pay through the good old cash on delivery system.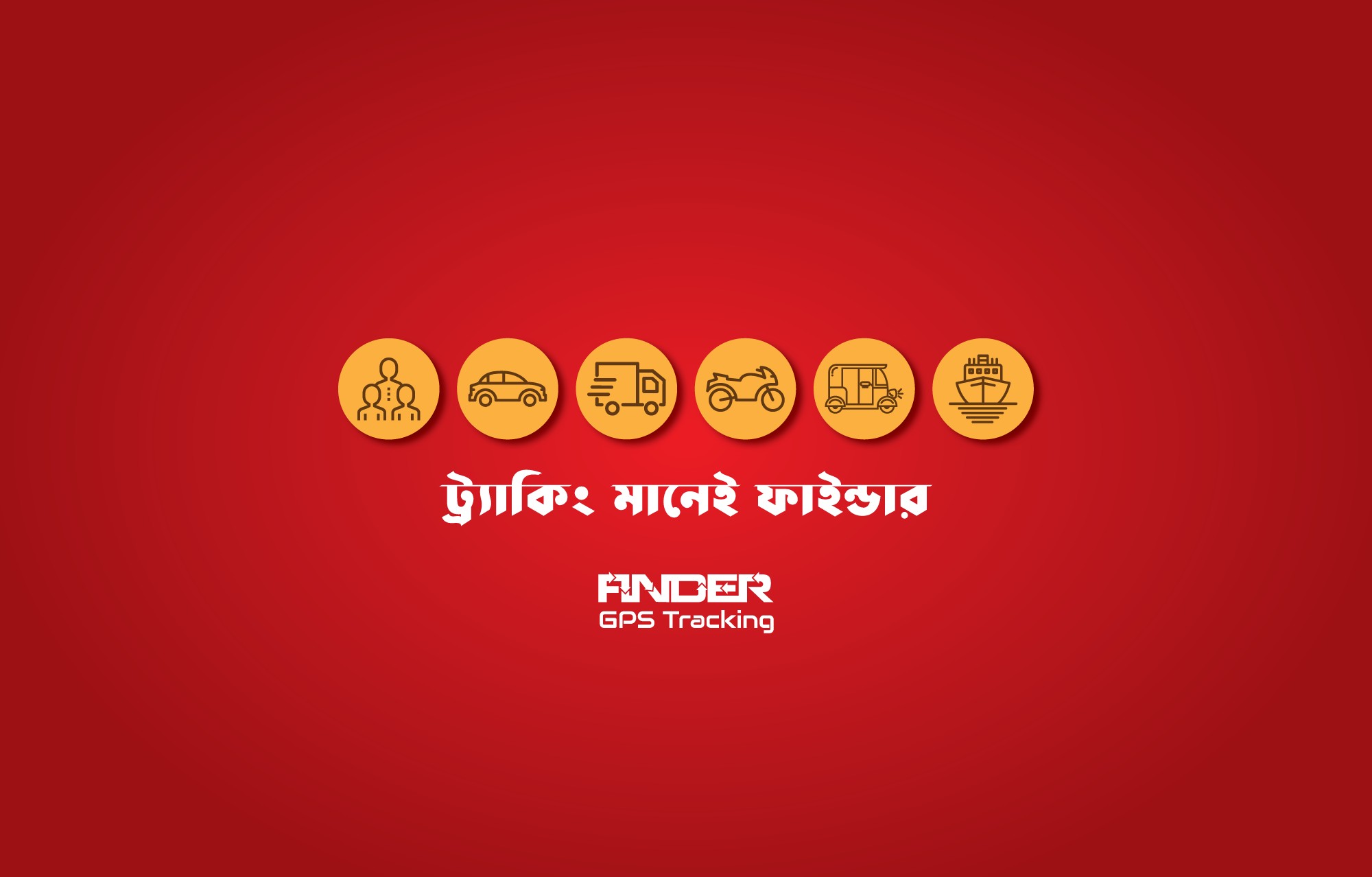 Finder GPS tracking is a service of Monico Technologies Ltd, which a sister concern of Monico Ltd. Starting from 2011 as a GPS tracking service, Finder has gained a lot of confidence as one of the best GPS tracking service provider in Bangladesh. They have been awarded the 'First Vehicle Tracking Service' operator license from BTRC. Not only that, they are the only enlisted GPS tracking company for developing local map service by Survey of Bangladesh. So, if you are thinking about licensing and services, you can rely on Finder without a second thought.
Finder offers a simple but necessary line of features to it's users. You get all the must have options from Finder. For example, using 'Real Time Location', you can monitor & track your vehicle's current location. Or take the 'Ignition Alert' for example, you'll be notified the moment your car's engine turns on or off. Just like these two, you get features like 'Geofence', 'Speed View'. 'Speed Alert' etc., all of which are standard and absolutely necessary. And if you need to run a business of fleet of vehicles, Finder got solutions for tracking those fleets too. But why choose Finder over others, when you can get all these from other GPS tracking service providers from our list?
Because, Finder offers two special features. The first is the 'SOS Button'. From the name, you can understand it's a call for help in cases of emergency, and it exactly does so. So, if you find yourself in danger, you know which button to push. The second one is 'PUSH-PULL SERVICE'. This is a very special feature, because, as you know, almost all the tracking service needs internet for you to receive signals coming from the GPS tracker placed in your car. But what if you don't have internet coverage? What if you don't have net connectivity? For these situations, Finder offers it's offline tracking service, so you won't have to worry about running out of internet data on the go.
Registration is pretty straight forward in Finder. You give email, phone number & password for signing up. Then when you enter the email & password and proceed, they'll send an email to your email to verify. Once verified, you can easily log in.
Currently, there are 5 different packages you can choose from (all named after birds), ranging from 4,500 BDT to 12,000 BDT. And they will also monthly charge you for their service, starting from 300 BDT to 500 BDT (depending on the service you choose). You can also get bundle offers, which will grant you some discounts at both tracker price & service charge.
Customer won't get very wide options for payments, unfortunately. You can buy Finder GPS tracking services directly from the dealers they use throughout the country (you can find their list on Finder's site), or you can pay via bKash. No VISA card or net banking or cash on delivery for payment, we're sorry.
Safety GPS Tracker Service offers real time vehicle tracking solution, enabling you to track the accurate location of your vehicle. With more than 5,500+ vehicle combined (including cars, trucks & buses, motorbike and auto-rickshaws), 1,500+ happy clients & 75+ corporate clients, Safety GPS Tracker can be the service you might want for your own car's protection.
Safety GPS Tracker offer their clientele with all the features one may need, both for personal and professional purposes. They get all the standard necessary features, including: real time live tracking of car, remote engine turning on/off, 10 second updates, Google street view, geo-fencing alert, ignition alert, maintenance alert, multiple vehicle tracking at the same time, mileage report etc.
But these are not the features that make Safety GPS Tracker Service special, because you can get these from almost any GPS tracking service providers. There are 2 things which makes Safety GPS Tracker stand out amongst other service provider. The first thing is: 'BRTA Paper Update Alert'. Though it first seems a rather small feature comparing to others, but it's one of the most important ones. Even more, if clients are running fleets of cars/trucks for business/professional purposes. If customer's vehicle's paper is not up to date, that could translate into the lack of fitness of the vehicle, and can result into fines and even detaining of the car. So, this alert will help clients regulated regarding their vehicles' fitness and proper updating. The second one is: versatility of packages. Everyone's need is different. Some may not care about voice monitoring, some may not need video monitoring. For this reason, Safety GPS Tracker Service got 8 different packages, targeted to all sort of consumer classes. Clients can choose whatever they need, regardless the service being premium or more of an economical choice.
Registering is pretty easy. Fill in the info boxes with necessary information (name, phone number, vehicle brand, model etc.), and sign up.
Pricing is kept simple too. There are basically 6 packages with 4,000 BDT price, 1 with 5,000 BDT price and the last one is 12,500 BDT. The main difference is in service charges (ranging from 300 to 500 BDT) and slight feature differences.
As for payment, they provide 3 options: debit/ credit cards from VISA, master card etc.; internet banking system, like MTB, city touch etc.; and finally mobile banking system, such as bKash, ROCKET, ipay etc. There are in total of 22 banking systems available, so you won't find any hardship when it comes to payment.
As for the last addition to our list today, Prohori is a Bangladesh based company, which uses nothing other than completely Bangladeshi technology to provide vehicle tracking solution. Founded on February of 2012, researched by Pi Labs Bangladesh Limited & manufactured by Onnorokom Electronics (ORELCO), Prohori sets its aim to provide GPS tracking solution by using domestic technology and spreading it across the country. With a goal to provide safety & security for all sorts of the four-wheeled vehicle with our own tech, Prohori holds a strong place on our list.
Prohori offers no less than others. Clients will get all the features of a complete GPS tracking service. From live tracking to engine locking/unlocking, geo-fencing, speed violation alert, travel history- all of the necessary elements needed for a proper GPS tracking service is available in Prohori. And if clients need, fleet management is also available. So, let's not talk about those again. Rather we'd like talk about the thing which makes Prohori unique and the best choice for any client. And that is 'Custom Package'. Prohori already offers clients 4 ready made packages, where prices are fixed. But in 'Custom Package', you can choose your custom made GPS tracking solution package. You can keep the things you think you need and leave the rest. Which means, you don't necessarily have to pay for a feature you won't use. Now you can make the optimal vehicle tracking solution for yourself.
As already said, there are 4 packages available for purchase in Prohori, ranging from 4,999 BDT to 11,999 BDT. You can buy Prohori direct from Onnorokom Electronics shop. And if you want to buy it online, visit Rokomari.
And for payment, you can go for debit/card from VISA, master card, DBBL Nexus etc. Or you can go for 7+ available mobile banking system (ROCKET, Nagad, bKash, MCash etc) or 5 internet banking system (city touch, AB direct etc.).
Conclusion
There are many GPS tracking service online. But many of them don't provide service anymore/ kept on hold for the time being (for example: Grameenphone Vehicle Tracking Service). So, choose wisely, don't rush, don't get fooled by flashy website or big words.
Your car is precious, so choose it's safety measurement with care. Don't try to skim off, pay some extra bucks in your limit for the added & guaranteed security and safety. And most importantly, always wear seat belts and drive safely. Happy driving!